Optimize Your Customer Service With QR Code Solution
Quick Response (QR) Codes can be seen everywhere now!  The marketers or businesses are connecting with their customers with this matrix bar-code. The statistics reveal that the number of users of scanning QR code solutions will grow to 99.5 million from 83.4 million by 2025. These figures clear out that its limit is not to ads or payments. However, almost every sector can leverage this contact-less technology to enhance customer service. This article aims to give you a brief on how embedding QR codes is a beneficial deal for your business. Without any further ado, let's find out!
Why is using a QR code solution essential?
A QR code is a square-shaped small bar code that you can notice in banks, restaurants, malls or shop windows. Their usage is in advertisements, packaging, menu, check-ins, processing payments, etc. The QR code generator gives access to quickly scan the online content. 
Many stores or banks use QR codes to handle long queues.  Because of technological advancement, a virtual queue management system has come into existence. Many reliable queuing solutions allow their customers to check in from the QR codes to the premises by filling in the mandatory information. However, doing so does not consume more time than the customers spend waiting for their turn. But, using it, the process accelerates, business tasks are completed in less time and the service quality improves. Additionally, it boosts staff productivity, and therefore, the business value. 
Tips on how QR codes can enhance customer experience
Encourage customer re-visits
The multimedia response triggers when the QR activates. A funnel is created for customers' convenience with content. Hence, this process encourages a shopping experience, providing customers with unique incentives to do similar things with you again in the future.
However, if the marketers can make customers revisit again to purchase, then, there are chances that they will proceed to purchase from them. Positively, you are not required to make an additional investment when it comes to marketing. Easily, with the right usage of QR codes, the customers can be converted.
Offline and Online World Channeling
Even if the technology has shown its impact on every business, but, printing has not gone out.  If you will ask us, it shouldn't be. The reason is only that it converts the events and stores aesthetic and lively. While the printing ads are more purposeful and interactive with digitized solutions. Some industries or retail stores have implemented a QR code queue system for customers' convenience. Visiting the offline store seamlessly scans QR codes from invoices, posters, banners, hoardings, and entry tickets and can enjoy offers, and loyalty programs, check the complete online collection, or sign up for a warranty.
Easy and Quick Customer Details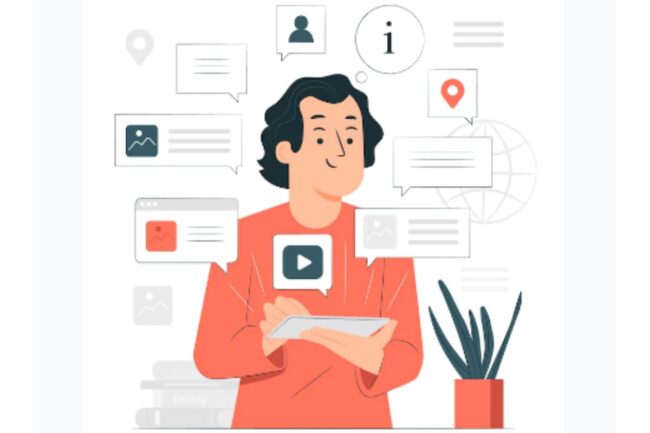 As we all know that there is an extensive percentage of mobile phone users, and getting their details is easy with a QR code generator. It enables businesses to get a hold of the information in the smartest possible way. Despite the medium of marketing, the mobile phone users after scanning the QR codes on digital marketing collateral or print. In the same vein, communication can be carried out effectively for productive marketing campaigns.
Reinforcing customer's and retailers' relationship
In addition to the important communication, the QR code solution holds the details that enhance awareness and trust, and simplify the purchasing process. Considering an example of the coffee and food industries. They use the video QR solutions to share the cooking methods. Additionally, the customers use these bar codes to notify the authenticity and origin of the used elements. Also, the fashion industry uses it to spread the word about work practices and labor tasks to establish enduring relationships with customers. Many say that these types of relationships lead to improvement in customer loyalty and a higher retention rate. 
Cultivate Re-marketing
We already have mentioned that mobile phones have become an important part of everyone's life. It enhances customers' purchasing experience and helps to discover, search and buy retail items. These days, several mobile phones have integrated QR code scanners. Consequently, it eliminates the need for a third-party application for scanning QR codes. As many searches start with smartphones, QR codes offer two-way communication. Using it, the marketers can find out details of buying behavior and they can re-market the customer outside the store experience.
Moreover, the solution enables retailers to check the growth in advertising costs. That implies QR codes provide technology-oriented marketers with a medium for re-targeting on Facebook and Google. Assuredly, the retargeted customers can communicate on social media regarding online ads more than those users who never came to your store.
Reduces marketing Cost
The conventional methods that marketers present to promote products or for special offers are email and SMS. Undoubtedly, these cost more than simply scanning QR codes on receipts, posters or products. Additionally, it encourages interaction and tracks down online and usage behavior. Collectively, all these efforts result in a higher conversion rate. The retailers can make personalized posters from the beautifully designed templates and include QR codes for more customer interaction.
Real-time interaction
In the period of extreme communication, the competitive benefit is the first to know, acknowledge, or benefit from an offer, product, message, etc. Collections for limited-time discounts, unique editions, or just for members are more attractive and successful due to fewer users and special availability. In these scenarios, the best solution is to get the desired thing in real-time.
In addition, the provider of QR code solutions even supports retailers to create interest and excitement for a successful campaign for a collection, product, brand, etc. The profitable thing is to trace the QR code scans for knowing the efficiency of every scan.
Concluding Remarks
There is no one business that has not opted for a QR code solution to reap its benefits. The article justified the statement that it is here to stay for long. From improving customer experience to quick completion of the process, eliminating waiting queues, and higher productivity, it gives you much!
Have you not implemented it yet in your business? Do it now! Benefits are assured! 
How to watch NFL from Germany-Live Broadcasting
The seventh largest country in Europe is known for many things, including its nightlife and its love of football. Football is a passion in Germany, and specifically, the American football league is watched with a passion, just as it is in Brazil and Mexico.
Hence, if you live in Germany and are a fan of the NFL, you have come to the right place. This article is all about how to watch NFL from Germany, and after reading this article, you will learn about Super Bowl and how to watch Super Bowl from Germany. Also, we'll tell you how to watch NFL all-week matches from Germany during the preseason.
How to watch NFL live streaming in Germany
There are usually two major sources of information about the NFL. TV is the first, while online, which means on your computer and smartphone, is the second. So, first of all, let's talk about how to watch NFL on TV from Germany.
NFL live on ProSieben
Free live NFL coverage is available on ProSieben. On ProSieben, you can watch NFL matches all week besides NFL preseason and NFL super bowl. Free NFL live broadcasts have been available on this German TV channel since 2015. Furthermore, ProSieben has launched a special channel called ProSieben MAXX that streams live games from stadiums in the USA every Sunday at 18:30.
Meanwhile, ran.de streams another game. Also, if the NFL matches are played in London, there is no need to worry. You can watch the NFL Marathon on ProSieben max starting at 15:00.
ProSieben also has football experts like Patrick, Jan Stecker, and Esume, who analyze games during the NFL season. In addition, Sebastian Vollmer, who won the Super Bowl twice, has been working for ProSiebe since 2017.
Huge success has led ProSieben to expand its NFL coverage since 2015. People's interest forces authorities to improve streaming.
Further, ProSieben will broadcast not only regular season NFL games but also playoff games. The channel's team will also stream the Super Bowl live from the stadium.
Anyone living in Germany can watch the NFL on ProSieben and ProSieben MAXX through satellite or cable. It is now extremely easy to watch NFL matches live from Germany.
NFL Live on DAZN
This season, DAZN will also stream NFL 2022-23 live matches. Users can watch several games per week on this channel. Sunday night, Monday night, and Thursday night games are aired by DAZN.
During the NFL season, users can also watch NFL RedZone every Sunday. RedZone at DAZN starts at 7 p.m. Viewers will be able to watch every touchdown through RedZone. It is also possible to stream big plays from Sunday's games.
Moreover, DAZN has other exciting things to offer NFL fans as well. NFL Network streams live 24 hours a day, just like DAZN. Furthermore, the NFL network provides streaming NFL news, highlights, and draft coverage.
DAZN is a paid source of NFL content, unlike the previous channel. There is, however, a free trial available at the beginning. In addition, DAZN offers the following plans:
Free-Trial
DAZN offers a 30-day free trial to German customers. In addition, unlike other applications, DAZN gives you access to all of DAZN's programs. Similarly, you will be able to watch all of DAZN's live and on-demand programming. DAZN covers over 8,000 events annually, so it's fun to watch.
DAZN offers its services on a monthly or yearly basis, however, so you have to subscribe to keep them.
Monthly Plan
DAZN's monthly subscription costs €11.99. With DAZN, you can stream live content 24 hours a day, 7 days a week. As a result, you will be able to watch all NFL games live on DAZN.
Annual Plan
It costs €119.99 per year to subscribe to DAZN. With this plan, you'll be able to stream all live coverage of DAZN all year long.
06 Awful Website Development Mistakes You Should Avoid at all costs
Have you ever wondered what is the most crucial thing making your business shine in this digital era? In our opinion, it is your online presence. Your website is like the first impression of your business or brand that your users will take with them. So you need to leave a pretty good one. It's essential on so many levels as it's the only thing that helps you to attract more traffic influx, not just that, but it also helps you in developing a brand name and creating brand awareness. It is irrespective if you have a developed business or a new name in the market, you cannot boost your business without the right kind of web app development for your brand.
You will be amazed to know that according to studies, the users on the internet hardly take 50 milliseconds to decide whether your website is worth it or not. Isn't it crazy? It is why you seriously need to take your web development game to the next level.
So this article will help you understand the top six commonly made mistakes so you can strengthen your web app development skills and make the best out of them. So let's get started.
06 Dreadful Web Development Mistakes You Must Avoid
We have compiled a list of some common mistakes that you must avoid at all costs to
1. Writing outdated HTML
With the evolution of the digital world, we have many more options available these days for markup than we had before. But some people are still hung up on older ways of doing things and it is hard to get rid of these old habits. But it is crucial to understand here that these older ways might be lagging you in some ways.
Writing HTML in the same old ways might end up in an intricate markup which may promote inconsistency on multiple browsers. For example, using semantic tags will be more appropriate than using the old-school table, span, etc. elements. Various outdated HTML practices are not supported by modern prototypes now.
2. Limiting to a particular browser
Another common mistake is to limit to a particular browser. It is a common mistake mainly because every developer has a favorite browser, and also, there are some browsers that they despise in some way. But it is a healthy practice to avoid favoring a particular browser as it might influence your code in some ways. You might end up developing a code that works fine on certain browsers but won't be functioning that smoothly on others.
To avoid this issue it's good to test the performance of your web pages on multiple browsers. Various tools are available that can make testing uncomplicated for you.
3. Ignoring the significance of a responsive design
Designing a responsive website should be your number one priority. Responsive design implies that your website looks and functions fine on every device. So whatever the size or type of the device your users might use, your website should look well and work fine on it.
Non-responsive website design can have a significant setback on your website's traffic and affect your user experience big time.
4. No white space
A pro tip anyone could give you regarding website development is never to ignore the significance of white spaces. Big text blocks can be overwhelming and kill the potential influence of your content on your users. It is why incorporating white space always promotes better engagement and is a great way to captivate users' attention.
Many around us ignore the significance of white spaces and end up with big data chunks that no one like to read, and hence defeat the purpose of content which is to provide valuable information to the users. So if you want your users to stay on your website and explore deeper pages then you should go for white spaces.
5. Poor navigation
Your ultimate goal behind website development should be to provide an extraordinary user experience and leave the best impression of your brand on your audience. But to do all of it, you might have a window of milliseconds only, so you need to up your game.
The best and simple way of doing that is starting with a kickass navigation system. Your website development should be so smooth that your users can navigate smoothly through it without any hindrance. Efficient navigation not only promotes a better user experience but, also helps in decreasing your website's bounce rate. People tend to explore deeper into the website equipped with clear and neat navigation.
6. Not using images smartly
Using images and infographics are an integral part of web design hence, it is essential to web development. But not using them smartly can bring out a lot of trouble. Low-quality images can be a huge turnoff for your users and can make them lose their interest in your brand immediately.
No one is denying the significance of infographics here, but incorporating relative and intriguing graphics is also crucial. Also, heavy infographics might affect your site's speed and lag it down. So play smart and use relevant, high-quality, and optimized graphics.
Final Words
Everyone tends to make some mistakes now and then, but some blunders can affect the efficiency of your website in various ways and end up having severe consequences. These were some commonly made mistakes that you can easily avoid. Avoiding these web development mistakes can boost your website's efficiency and help you in engaging a better traffic influx.
Why you should use vape and how it is better
There are so many people who are vaping instead of smoking cigarettes, and there are several reasons behind it. Every person who actually knows how to vape work makes the choice of vape and never chooses cigarettes. You don't need to worry about the concerns that may come to your mind whenever you want to use vaping because a huge misconception about vaping often revolves around society. A vaporizer is a device that you can purchase from any vape shop, and if you don't have sufficient time to buy it after visiting the Vape shop, you can buy it online too. Buying a vaporizer online is easy. Just keep your requirements in mind while buying one because if you don't keep these requirements in mind, you may end up making a wrong choice. The amount of nicotine is the essential factor to keep in the brain while choosing the vaporizer, so be careful while selecting one. There are several reasons to use vaping and several things make vapes better than cigarettes or cigars these reasons are:
Less harmful:
Some people think that vapes are very harmful to health and these people are wrong because they are less harmful. You can smoke a vape with no nicotine, which makes it less harmful to health, and if you like to smoke nicotine, then you can reduce its amount in the vape. People can also slowly get rid of nicotine by reducing its amount with time, and it will help them in leaving the cigarettes habit. So, if you are among the people who think that vaping is more harmful, then keep in mind that it totally depends on your intake of nicotine. If you choose to smoke a vape with less or no nicotine, it will be less harmful than a cigarette. Just keep in mind that when you are buying a vape, you should check the amount of nicotine in it before buying.
Less costly:
Like some people, you may think that vaping will cost you so much. This isn't right because vaping is a single-time expense, and you have to purchase a vape only once. When you purchase a vape and start smoking it, you don't need to buy a new pack of vape again like cigarettes, as a single vape can serve you for a long-time. Most of the time, people want to smoke a cigarette, but they can't do so because they don't have sufficient money in their wallets to purchase a new pack of cigarettes. This isn't the case with vapes, and you can use a vape for a long-time after purchasing it once.
Various flavors:
You can enjoy various flavors when you choose to smoke vape rather than cigar or cigarette. As cigarettes and cigars have a typical taste and you have to taste the same flavor whenever you smoke them, vapes are different. There are so many flavors accessible for the users, and after buying the one that you love to smoke, you can enjoy that flavor for a long time. So, to enjoy new tastes and various flavors, you need to use vaping rather than cigarettes.